2019
documentary
61min
Director: Ksenia Okhapkina
Produced by: Vesilind, VFS Films
Language: RUS, subtitles: ENG, HUN
The 17th Verzio Film Festival presents Ksenia Okhapkina's new film, Immortal within the festival's International Competition.
"In Murmansk, Russia, boys are trained to use weapons while girls practice ballet. Told in a minimalistic aesthetic, defined by the dim lights of the Arctic Circle, this film observes social norms frozen in time in this cold, northern town."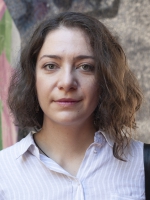 Ksenia Okhapkina is a Russian documentary film director. She graduated from St. Petersburg State University of Film and TV in 2012, and has been working with the Estonian company, Vesilind since 2014. She has shown her commitment to the composition and meaningfulness of a single frame, and her ability to capture "the poetic in profane".
Awards: 
Estonian candidate for the Academy Award
Docudays UA 2020 Teenage Jury Award
Karlovy Vary 2020 Grand Prix for Best Documentary
Astra FF 2019 Best Film in the International Competition
The film will be available online on the official website of Verzio Film Festival from 10-22 November 2020. 
Tickets can be purchased here.
Watch the film and ask the director!